Hand bell ringing in the Gosberton area
HELP WANTED!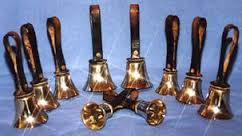 We have a wonderful set of handbells and would like to find volunteers locally who would like to practice to form a local group.
Are you are interested in helping to start a handbellringing team or join a team in our villages?
Did you used to be in a handbell ringing team and would like to join? We also need someone to lead us.
Please contact Ian on 01775 840694.
Gosberton Group of Churches is part of the Lincoln Diocesan Trust & Board of Finance Ltd.
Registered charity number 249355